The main screen when a player opens the game client.
Bulletin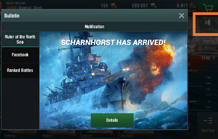 All in-game news can be found by clicking on the highlighted box, as shown in the image.
Chat
Global chat and Private chat are located on the left side of the main screen right above the filter button.
There are 4 types of chat:
| | |
| --- | --- |
| World | Chat with other players from around the world. |
| Private | Your private messages. |
| General | All messages received will be shown here, both from the Global and Private chat. |
| Fleet Chat | Chat with your fleet members. |
First victory
A timer is set 12:00~00:00 on all server timezones to give players a first victory bonus.
Port design
the background consist of the following design
See Also
Community content is available under
CC-BY-SA
unless otherwise noted.